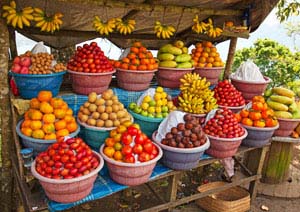 Shaka Pops show­cases sea­sonal local pro­duce with tan­ta­liz­ing ingre­di­ents such as Maui pineap­ples, Kula straw­ber­ries, MauiGrown cof­fee, and Hawai­ian vanilla.  They are lightly sweet­ened with nat­ural cane sugar to let the mouth­wa­ter­ing fla­vors shine through.  We also offer "no sugar added" pops that are nat­u­rally sweet­ened with fresh local fruit and not arti­fi­cial sweeteners.
Our gourmet ice pops reflect the tastes of the Hawai­ian Islands using the fresh­est local pro­duce and ingre­di­ents when­ever pos­si­ble. Our "Fla­vor of the Week" gives us the oppor­tu­nity to exper­i­ment with sea­sonal ingre­di­ents or unique fla­vor combinations.
Cus­tom fla­vors are also avail­able by spe­cial order (two dozen min­i­mum) with two week's notice to allow for sourc­ing and recipe development.
A sam­ple of our rotat­ing fla­vors includes:
Non-Dairy Pops

Lava Flow

Straw­berry Limeade

Pineap­ple Ginger

Coconut Lime

Straw­berry Banana (no sugar added)

Mango Habanero*

Water­melon Mojito*

POG (Pas­sion Fruit, Orange, Guava)

Coco Hana Banana

Rasp­berry Meyer Lemonade*

Trop­i­cal Smoothie (no sugar added — Coconut, Banana, Pineap­ple, Papaya, Mango)

Dairy Pops

MauiGrown Cof­fee

Mango Cream*

Lilikoi Cheese­cake*

Maui Mocha

Mayan Choco­late*

Salted Caramel*

Mac Nut Brownie*

Blue­berry Lemon Buttermilk*

Shaka­roon (coconut macaroon)*

Tan­ger­ine Creamsicle*

Laven­der Choco­late Flake*

 
*Denotes lim­ited edi­tion or sea­sonal flavor