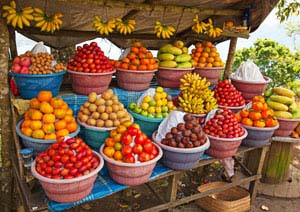 Shaka Pops showcases seasonal local produce with tantalizing ingredients such as Hawaiian pineapples, Kula strawberries, Maui coffee, and local citrus.  They are lightly sweetened with organic natural cane sugar to let the mouthwatering flavors shine through, and we also offer "no sugar added" pops that are naturally sweetened with real fruit and not artificial sweeteners.
Our artisan ice pops reflect the tastes of the Hawaiian Islands using the freshest local produce and ingredients whenever possible.  You can find our "Classicle" flavors at local grocers, retailers, resorts, and activities on Maui and Kauai.  Available only at our pop trikes and special events, our "Limited Edition" flavors give us the opportunity to experiment with seasonal ingredients or unique flavor combinations.
Custom flavors are also available by special order (two dozen minimum).
Classicle

 Flavors

Lava Flow

Coconut Lime

Passion Orange Guava

Strawberry Limeade

Raspberry Lemonade

Strawberry Banana (no sugar added)

Pineapple Cream*

Maui Coffee*

Mango Mojito

*Contains dairy

Limited Edition Flavors

Exotic Fruit Cocktail (no sugar added)

Lilikoi Cheesecake*

Mango Cream*

Watermelon Honey

Mac Nut Brownie*

Blueberry Lemon Buttermilk*

Shakaroon (coconut macaroon)*

Mayan Chocolate*

Salted Caramel*

Tangerine Creamsicle*

Cranberry Citrus Spice

Papaya Passion (no added sugar)